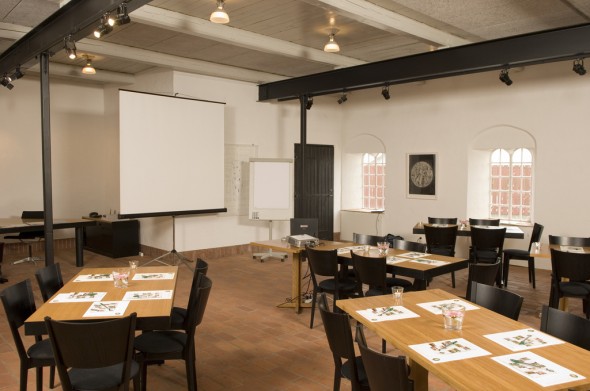 Organic conference in Skane
A conference at Ängavallen is an experience that does not just stimulate the intellect, but also nurtures the soul. A first-class conference facility with unsurpassable menus for lunch and dinner. In addition to the actual conference discussions we can offer activities including cookery, cheesemaking, spicing schnapps, baking bread and making sausages. 54 guests sleep like kings in modern, eco-labelled rooms, that moreover, have won architectural prizes.
FULL-DAY CONFERENCE
Breakfast Ängavallen's breakfast buffet is not just 100 percent organic, it is also fantastically substantial. There are about 20 kinds of tea, five or six kinds of juice, muesli, soured milk, yoghurt, home-made bread, eggs, chipolata sausages, cold meats, fruit and cheese. It's almost like a brunch. You can eat whenever you like from 06.30 to 10.30.
Lunch
Exquisite dishes made from 100 percent organic raw materials, including mineral water/light lager beer and organic coffee (we also make food for special diets).
Afternoon coffee
Organic coffee with, for example, Ängavallen's organic Valrhona chocolate cake, lightly whipped organic cream and raspberry preserve. You can have as much fruit, mineral water and sweets as you want.
Example of conference prices
For a two day weekend conference with 18 participants including a four course Gourmet menu in the evening and an overnight stay (two guests/room).
Total: SEK 2,368/person excluding VAT.