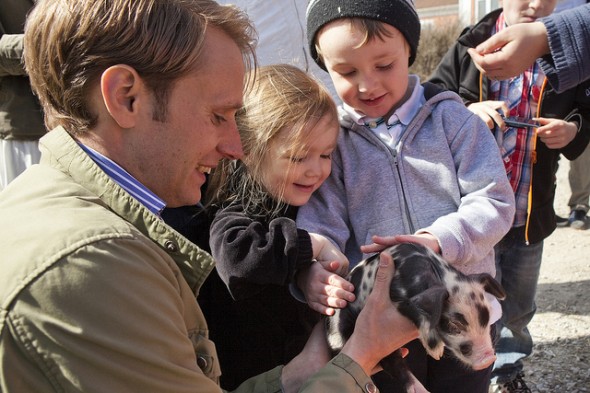 Sunday Brunch with guided safari 
On Sundays you can have a say the least generous brunch at Ängavallen. It is laid out with the farm bakery's stone-baked organic sourdough bread, crisp bread, organic herring and salmon, organic cheeses, Ängavallens all organic cold sausages, pates, other cured meats, salads, pies, potato / pasta salad, vegetarian dishes, Ängavallens ecological mini steaks / spiced sausages, sausages / meatballs for the kids, fruit salad, a variety of desserts, cakes and tea / coffee.
While those who wish to do so, finishing the meal in peace and quiet they get to run around going on a guided tour of the lambs, calves and piglets.
Sunday brunch will consist of Ängavallens lovely 100 percent organic brunch.
Adults: 345 kr. Children: 4-6 år 120 kr, 7-12 år 160 kr included animal safari.
For children 0-3 years, the entire buffet for free.
We serve Sunday brunch with safari, arrival noon kl 12 – 14.